Juggle Your Way to Success by Learning to Love Your Mistakes
Benefits of "Learn by Dropping the Ball"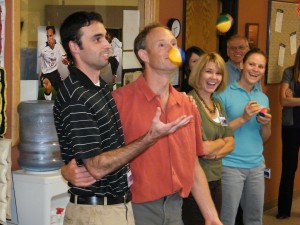 TeambuildingNW is a fascinating team-building workshop. Here at TeamBuildingNW we utilize the juggling form in "Learn by Dropping the Ball" (LBDTB) to coach your team to embrace their mistakes as the necessary stepping-stones toward true success; not as the path to failure. As you learn to juggle three balls it quickly becomes clear that dropping the ball–that is, making mistakes–is all par for the course. You will learn–through positive reinforcement, repetition, and your host's verbal teachings–the many applications of this symbolic and real-life skill.  LBDTB gives your employees excellent task-balancing practice that equally emphasizes single-minded focus and coordination. After the workshop, everyone gets to keep a set of juggling balls for a mind-clearing meditative practice they can apply anywhere!
The Missing Link for a Thriving Team Work Environment
TeambuildingNW is chock full of inspiration you can sink your teeth into! After learning the three ball pattern we advance to juggling in pairs. Here the focus shifts to one of teamwork, timing and finesse. In addition to its application in the workplace–both as a team building exercise and a quick, effective "brain break" (see Reboot Your Brain below)–team members will be delighted to discover they can apply the juggling metaphor to raise confidence, increase enthusiasm, and nurture their inherent ability to learn anything. These ideas-made-tangible can provide the missing link in improving performance at work–not to mention in golf, skiing, tennis, or any other sport! Our workshop also creates memories outside the office, which helps your team to build a solid, lasting foundation.
Reboot Your Brain
TeambuildingNW gives you the ultimate tool for keeping your mind fresh and sharp! Juggling, even a few minutes at a time in the midst of an otherwise pressing schedule, is a terrific way to shift gears physically, emotionally, and mentally. It prompts a shift from the ordinary analytic left hemisphere mode of the brain to the more imaginative right hemisphere. When we're stuck on a project, we all know that nothing would work better to break through the stagnant waters than dropping everything to go skiing at Timberline for the day–unfortunately, most of us don't have that luxury! A short juggling break will have a tremendously positive effect on whatever is blocking your brain from your pen. Henrik's sure-fire methodology will have you juggling before the workshop is over, and the rewards will last a lifetime.
The Science Behind the Juggling/Health Connection
Juggling will make your brain grow bigger! Science shows that juggling improves blood flow in the brain and increases gray matter. Check out this article from Medical News. Juggling can be effective in the treatment of anxiety disorders, according to this article from the National Institutes of Health, read more. Or how about treating Dyslexia? Check out this article from the BBC. Without a doubt, your body will appreciate a break from the office chair and your eyes will benefit from changing their fixed focus of 20 to 24 inches that you maintain for hours when working at that computer. There is even a term for it now… computer vision syndrome!
Power Poses
Are you aware that you can make your brain feel better by making your body feel better? It is obvious how you feel it in your body when you are not happy. We have all felt butterflies in our stomach or a knot of anxiety. The queen bee of the body/mind connection is Amy Cuddy. Watch this powerful video and you will understand why we include "Power Poses" as part of the "Learn by Dropping the Ball" workshop. This is such a powerful talk and I recommend it to everyone.